Every year in March (21 March 2020) appellation of Bourgueil (27 Indre-et-Loire, Centre-Val de Loire) descend on the city of Tours, about 30 miles (50km) to the east for their wine fair (Foire aux Vins) in the Boulevard Heurteloup in Tours.
Over 40 winemakers will be offering tastings of their wines – these are predominantly red wines made from the Cabernet Franc grape – the dominant red grape variety of the Loire. Bourgueil is about 50km west of Tours along the valley of the Loire.
For more info see www.vinbourgueil.com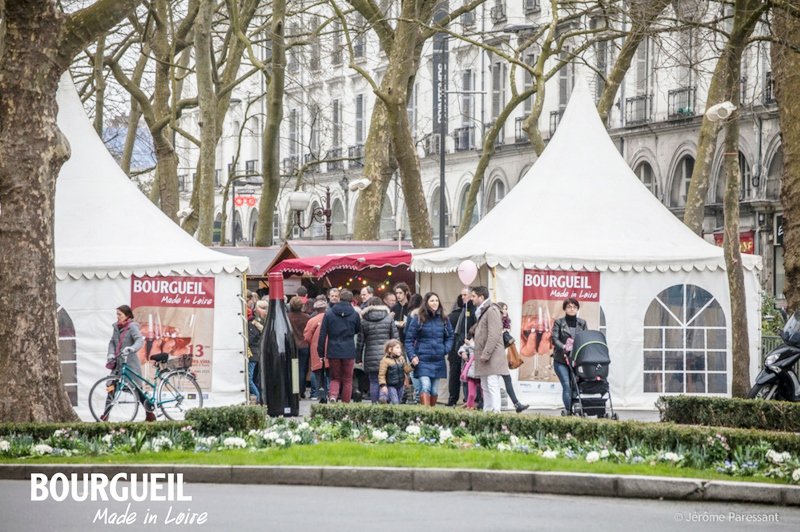 If you are in the Loire Valley for the weekend of 31 August – 1 September 2019, you can explore the vineyards and Loire wines in a different way,
Vignes, Vins et Randos is an organised series of walks throughout the Loire Valley at various locations featuring Loire wines from the Atlantic Coast through Muscadet, Anjou, Saumur as far east as Touraine:
Organised hikes around the themes of local heritage, vineyards and local wines.

A central theme in 2018 was music in the heart of the vines

A long the walks you will find different activities and gastronomic pauses with local produce such as : pork rillons, rillettes, goat's cheese, apples and more… The local traditions, expertise and heritage will be the main attractions.

A previous highlight of the walk was an acoustic concert in the vines with professional musicians selected by the organisers of the local Avoine Zone Blues festival who play jazz, swing, gypsy, French or classical music. There is a choice to satisfy everyone's taste in music!

previously featured:

– The deaf and hard of hearing accompanied on the Muscadet-Sèvre-et-Maine and Saumur-Champigny walks.

– Hot air ballon on the Chinon walk.

– Horse and cart rides on the Quarts-de-Chaume, and Touraine-Azay-le-Rideau walks.

– Guided descriptions of the vineyard landscapes by experts from the Mission Val de Loire on the Quarts-de-Chaume, Saumur-Champigny , Touraine-Azay-le-Rideau and Vouvray walks.
For more info on this weekend of Loire wines see www.vignesvinsrandos.fr/
Save
There's a new free map and guide available from InterLoire (the official wine body for the region) to the vineyards of the Loire Valley available to download and in English:-
The light glistening on the river and its tributaries is a wonderful sight. The cellars carved into white limestone, magical châteaux, magnificent gardens, hillsides covered in vines ; hundreds of sights that still hold the memory of kings, queens, princes and artists like Rabelais, Ronsard, Balzac, Leonardo da Vinci, and Joachim du Bellay… The Loire vineyards offer charm, grace and surprise around every corner. It is a region for good living, a valley of abundance, a source of flavourful wines and generous aromas,and we would like to share all that with you.
This wine region (which does not include other appellations which are nevertheless close to the River Loire such as Sancerre, Pouilly-Fumé, Quincy, Menetou-Salon etc – these are all classified as "Vins du Centre" ) does cover the Loire from the Atlantic to Orleans and includes 68 separate appellations and has more than 7,000 wine producers making it France's third most important vineyard.
For each winemaker there is a comprehensive entry – e.g. for one of our favourites, the Domaine Leduc-Frouin in Anjou:-
Domaine Leduc-Frouin
The Leduc-Frouin estate invites you to discover its wines in a guided tasting session. Guided tours upon request. Groups: tours and wine tastings, reservations necessary for meals.
Monday – Friday: 9 am -12 pm / 2 pm – 6 pm, Saturday: 2 pm – 6 pm, and mornings by appointment only.
AOC Anjou Blanc ; Anjou Gamay ; Anjou Rouge ; Anjou Villages ; Cabernet d'Anjou ; Coteaux du Layon ; Rosé d'Anjou ; Rosé de Loire ; Saumur Brut.
Antoine et Nathalie LEDUC La Seigneurie – Sousigné
T:02 41 59 42 83
info@leduc-frouin.com
www.leduc-frouin.com
This is an invaluable guide to wine touring in the region, which does offer many delights for the wine and food enthusiast and others.
Download the map and guide
For more on Domaine Leduc-Frouin see www.frenchduck.co.uk